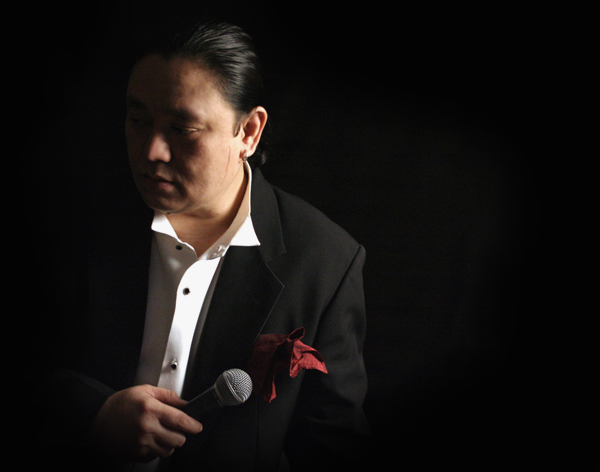 This modern day crooner brings back the sound of old-fashioned romance. Arthur's music moves people in ways you've never seen a performer do before. He truly is a very talented crooner that you can feel all the emotion and sincerity he puts in every one of his songs.

(The Philippine Star)

"Yes, this 6 foot balladeer, does an excellent job of mimicking Tony Bennett's singing artistry only, he does it a note higher sometimes!

In fact, a foreign guest who attended one of his concerts was over heard commenting that Arthur sounds more like Tony Bennett than

Tony Bennett does!

Arthur is obviously gifted with a powerful, splendid and multi-ranged voice, topped with a masterful stage presence and a good grasp of humor that comes naturally! This pony-tailed big guy is without a doubt, a world-class performer with a lot of soul to give!

This man who loves to sing songs from his folks' musical treasure chest makes no attempt to be cute. He's satisfied with himself in the original! He's no copy-cat …he just Arthur-izes the songs he sings, superbly well! And when he sings, you can close your eyes and swing along or dream along with him, that's what the audience usually do in his shows and concerts as this charming balladeer smoothly croons classics like As Time Goes By, The Way You Look Tonight, If I Ruled the World, Till, Stranger in Paradise, Come Fly with Me, Because of You, I Can't Stop Loving You, I Won't Cry Anymore, I Left My Heart in San Francisco etc. "

(Philippine Daily Inquirer)

The History

Arthur started his music career in the early 80's as a drummer and at the same time the lead vocalist of a band that played a combination of folk, country & rock… from The Beatles to Santana, Eagles, Queen, Led Zeppelin, Deep Purple etc. The band was called "The Kryptons". They did the rounds of the Ol' Shakey's Pizza Parlour that during that time was so popular among the teenagers & rock music buffs because of its nightly live band entertainment.

After a year and a half of playing rock, Arthur got tired of the noise and decided to return to his first love, crooning the classics.

Since a young boy, Arthur's been a big fan of standards, listening to the records of Frank Sinatra, Nat King Cole, Tony Bennett, Matt Monro, Johnny Mathis and even Diomedes Maturan who was a schoolmate of his dad's in high school.

Joined several bands as a lead vocalists from hotel showbands to concept bands etc… performed songs of different genres but still no music genre transcends the "Good Ol' Standards" he said. Tho' there have been numbing road trips, identity problems, self-doubt, and rejection, through the years Arthur sort of analyzed himself, and said, '"This is all I'm going to do… reintroduce and perform the classics the standard way. Arthur committed himself to singing songs that would appeal to all ages, a principle that would guide him for the next 100 years. And he feels so satisfied that he's been able to do that up to the present time.

Arthur recently won a very prestigious award, the 19th ALIW AWARDS BEST MALE PERFORMER IN HOTEL LOUNGES & BARS August 31, 2006.

"The music business and the entertainment business--in fact, all businesses--have become so narrow-channeled. I have done well in my narrow channel because I have never deserted it. I've been singing for years and still, nothing gives me greater joy than performing for an audience." –Arthur Manuntag

THE PROFILE
KRYPTON Band as drummer/vocalist (1981-1982)
Lead vocalist for "Elite Band" performed at Concourse Lounge-Manila Garden Hotel, Siete Pecados-Westin Hotel, Playboy Club-Silahis Hotel, and Tap Room- Manila Hotel. (1983-1984)
Lead Vocalist for "Lifeline Band" performed at Tipanan- Manila Peninsula Hotel, Tap Room- Manila Hotel, Concourse Lounge- Manila Garden Hotel, Siete Pecados- Westin Hotel, Shangri-la Hotel Lobby Lounge- Bangkok and Shangri-la Hotel- Penang, Malaysia. (1984-1987)
Worked as solo singer in hotels and bars in Bangkok, Thailand. (1987-1990)
Recorded the songs "Sinong Niloloko Mo" & "Bakit Ngayon Lang" included in the album "Di Mo Pansin" of the HOTDOG Band under VIVA Records as vocalist. (1991)
Joined Rodel Gonzalez (Band leader and founder of the SIDE A), as lead vocalist of the "Second Wind Band", managed by TV Director Bert de Leon and Wyngard Tracy as consultant. (1992-1994)
Performed nightly at the fine dining of Barbareeba with Arminio Estalilla on grand piano. (1993-1994)
Asian style icon Ms. Bonnie Gokson saw Arthur in one of his gigs at Barbareeba singin' then hired him to do one of the most prestigious and expensive restaurants in Hongkong called QuoQuo. (1994-1995)
Featured artist for "Miss Philippines-Hongkong" (1994)
"Soul 2 Soul", a back to back series of concerts with Ella Mae Sayson at the Cosmo Bar. (1995)
"Cosmo Presents, Arthur and The Second Wind", a series of shows sponsored by San Miguel Beer at Cosmo Bar. (1995)
San Miguel Super Dry Promo Tour-"Arthur with the Article Six", a two-month series of concerts at the Streetlife Makati promoting Super Dry Beer. (1995)
Special guest of Jinky Llmanzares in her homecoming concert held at the Music Museum (1995)
"Arthur and Friends", a Tuesday regular show at the Rembrandt Hotel with different guest artists weekly singing and jammin' with Arthur and his back-up band Toti Fuentes (musical director), Rick Ilejay (guitar), Bobby Rasco (bass), Jerry Nalasa (saxophone) and Glenn Velarde (drums). (1996)
Performed with the Side A band in "Jammin' with the Side A" concert at PICC together with Ella Mae Sayson and Rachel Alejandro. (1996)
Several TV appearances with Sharon Cuneta in her Sunday specials "TSCS" (The Sharon Cuneta Show, 1995-1997)
Philippine representative for "International Song Festival" held in Jakarta, Indonesia with Ms. Ella Mae Sayson; sponsored by GMA Network. (1995)
Interpreted the song "Now And Hereafter" of Nonoy Tan, duet with Ms. Ella Mae Sayson for the 1996 Metro Pop Song Festival Grand Finals. (1996)
Performed at the Paskuhan Village-San Fernando Pampanga with Gary Valenciano, Grace Nono, Bo Razon, Bayang Barrios, Joey Ayala, and Bobby Gomez as Musical Director.
Performed at the Shangrila Plaza Mall for the "TISSOT World of Music-Christmas Special" with the UP Jazz Ensemble (1998)
Performed with several artists for the launching of NBC's Joey 92.3 at Shangrila Rizal Ballroom
The Music Museum with Luke Mijares of SouthBorder and Rodel Gonzalez for THE REAL GROOVE concert (June 28, 2001)
Performed with Chad Borja, Retrospect atbp. at the Music Museum for the concert entitled "Jammin' for a Cause" (July 14, 2001)
Recorded over 100 Radio & TV commercial jingles as voice talent and producer: The voice behind Super Dry "What's On Your Mind", Kenny Roger's Roasters, Smart GOLD w/ Lani Misalucha, Colt 45, Coca Cola, Selecta Ice Cream, Kentucky Fried Chicken, Wendy's, and a lot more to name a few. (1992-present)
For the record, Arthur is the very first male singer signed up by the Hyatt Regency Hotel to perform at Calesa Bar-HYATT with Rudy Francisco & Friends as his back-up band. Currently doing the Monday slot. (April 2001-present)
A back to back concert with Marissa Sanchez billed "Twosome, Coosome" with Jun Latonio as Musical Director and Dingdong Cabazor as Director. (May 15, 2003)
First solo concert @ Hard Rock Café Makati with some of the country's finest musicians Romy Posadas, Roger Herrera, Ding Basbas, Ricky Posadas, Voltaire Pocio & Laura Austria. Special guest Bert Nievera. (September 26, 2003)
Hard Rock Café Singapore Concert billed "Sentimental Journey" w/ Bert Nievera, Willy Bayona & Eddie Mercado. (Nov. 9, 2003)
Hard Rock Café Birthday Concert (for a cause) billed "Jam For Sam" w/ guests Eddie Mercado & George Canseco. (November 24, 2003)
Shangrila Mall's featured artist @ the fountain area for 3 consecutive days. (Dec. 5, 6, 7, 2003)
Main feature of Makati Shangrila for the 2004 New Year Countdown back2back w/ Spirit of 67. (Dec. 31, 2003- Jan. 1, 2004)
"An Evening Of Love Songs with Arthur Manuntag" @ The Narra Park of Ayala Alabang Village. (Feb. 8, 2004)
Did the opening act for the Spiral Starecase Concert held at th NBC Tent of The Fort. (Feb. 3,2004)
"Mommy's Day Out With The Balladeer" @ The Hard Rock Café (May 9, 2004)
Main feature of Makati Shangrila for the 2005 New Year Countdown back2back w/ Flintstones & D'Gang. (Dec. 31, 2004- Jan. 1, 2005)
Serenata al Chiaro di Luna (moonlight serenade) @ the Fort featuring Arthur Manuntag & his Band (Jan.27, 2005)
Valentine Concert @ Shangrila Mall's atrium. (Feb.12, 2005)
Valentine show @ The Century Park Hotel. (Feb.14,2005)
"LIVE BY REQUEST"- a regular radio musical @ DZMM's Private Confessions w/ Jenny & Mari- channel 630khz AM radio every Thursday morning from 12:00am-2:00am (Phil. Time) and also heard via ABS-CBN's TFC satellite worldwide. (2004-2005)
Main feature again of Makati Shangrila for the 2006 New Year Countdown back2back w/ Spirit of 67.
"Music of the Hearts" a very well attended first major solo-Valentine concert at the Grand Ballroom of The Intercontinental Hotel Makati (Feb.14,2006)
Hosting/Singing RJTV's "Arthur Live By Request" w/ Romy Posadas Trio every Monday from 11:00pm-12:00mn
Appeared as Sitti Navarro's special guest in her Cafe Bossa concerts August 11 & September 9, 2006 at the Music Museum.
A Classic Valentine Concert w/ Romy Posadas Trio @ The Hard Rock Cafe Makati - Feb. 14, 2007
Pryce Hotel Show with Shree of Viva Hotbabes July 5, 2007
"An Evening Of Songs Down Memory Lane" a solo concert for Martha's Vineyard @ Meralco Theater August 1, 2007
Currently doing corporate shows, events, regular hotel and bar gigs around the metro the Century Park Hotel Atrium bar every Friday with Romy Posadas Trio .